20 July 2007
Nano Camp at Nano-Science Center
38 students from gymnasiums in Denmark and Sweden participate in the Nano Camp at the Nano-Science Center and DTU. The students work in the laboratories and have lectures about nanotechology during this week.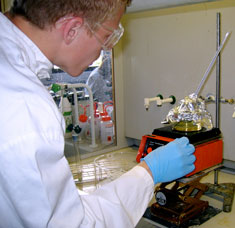 Andreas Mørck from Svendborg Gymnasium works in the laboratory at the Nano-Science Centre.
- I find nanotechnology very interesting and have chosen to go on the Nano Camp because I want to learn more about nanotechnology; which I believe will become an important technology in the future, said Andreas Mørch.